Orff Kodaly Music instructor and co-founder of JOJY Music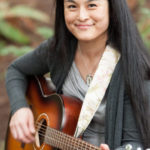 Sharing the gift of music with others is one of Jennifer's passions in life. She believes providing a positive, fun, encouraging learning environment helps to nurture each child's love for creating music and also allows them to really enjoy learning different musical concepts.
Jennifer has been teaching music to children since 2002 and teaches a variety of music classes around Vancouver and North Vancouver. She taught Kodaly Orff and piano with the Capilano University Community Music School until this past June 2016, when the school was shut down permanently. While it was heartbreaking to witness this closure, Jennifer is very excited and grateful for the creation of JOJY Music.  Drawing on her vast experience and training in children's music & music therapy, Jennifer specially designs each of her classes to involve a lot of fun and enjoyment which, in turn, engages her students and maximizes their musical learning experience.
Most recently she graduated from Capilano University with a Bachelor of Music Therapy degree.